So, Eircom have announced their eVision TV service.  Initial reports are that the user interface on the eVision set-top box is rather good, and the channel lineup – while not suiting everyone – is a decent basic service.  Pricing is aggressive.  It runs exclusively on their eFibre network, so bandwidth should not be a problem.
And why are Eircom getting into the TV business?  Well, telecoms and broadcasting have been converging for some time now.  The Irish telecoms regulator also regulates broadcasting transmission networks (as does its UK counterpart, OFCOM).  Some telcos (e.g. Virgin Media in the UK) have offered TV for many years.  However, there is a strong trend today towards converged services (which is basically selling a range of similar services to the customer).  The holy grail is quad-play: combining mobile phone service, fixed telephone, broadband access and TV services.  In Ireland, UPC have offered a triple-play service (fixed line, broadband and TV) for years and Sky have recently brought broadband and landline service to the Irish market for their own triple-play service.
Converged services offer a number of benefits for the telco.  First, the opportunity for growth. Most OECD mobile markets are saturated and fixed line penetration has been falling for years.  By adding an extra service, the telco can grow revenues.  More importantly, the more services a customer takes from a single provider, they less likely they are to churn (i.e. switch providers).  Telcos refer to this as 'increasing stickiness'.  In the UK, BT (who we might mistakenly think of as similar to Eircom) have offered a TV service for some years and in 2012 succeeded in buying the rights to a number of English Premier League matches. BT offer mobile service to businesses as a virtual operator on the Vodafone network and last week announced the replacement of that deal with a new partnership with EE, the new company formed from Orange and T-Mobile in the UK.  Will BT move to offering consumer quad-play services?
So will Eircom succeed?  Suddenly, TV has become a highly competitive market.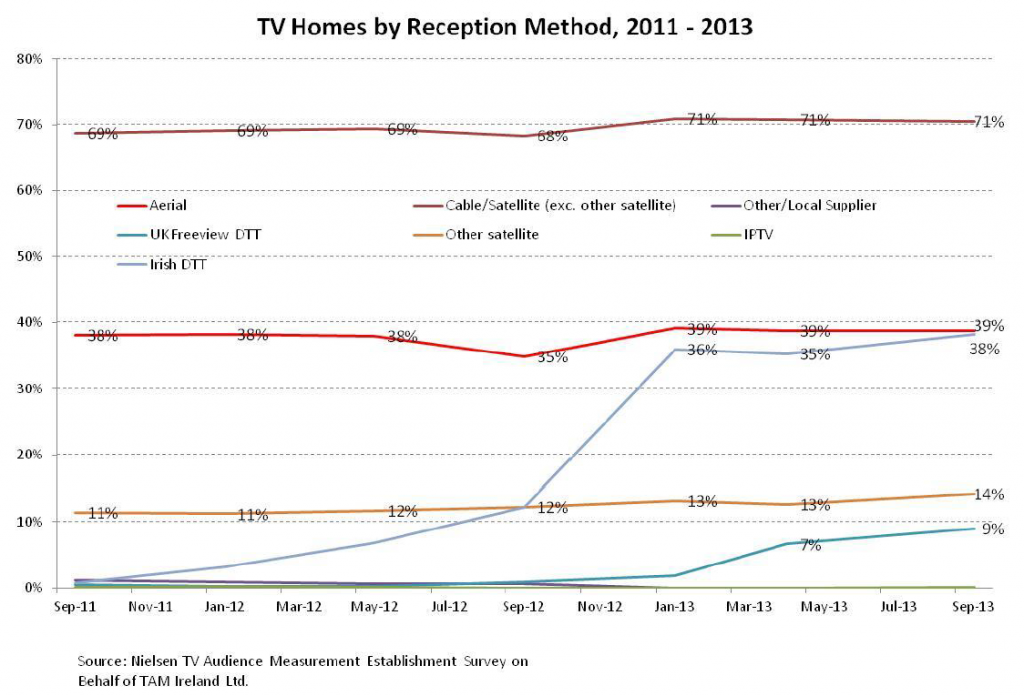 TV homes by reception method. Source: COMREG quarterly report Q2 2013
The chart shows that the 71% of households receive TV from one of the main market cable & satellite provides (UPC, Sky, plus a few others).  The report from which it was taken also states that only about 10% of houses receive only terrestrial Irish TV – all the rest have some form of cable, satellite or foreign terrestrial (Freeview or Freesat) service.
Moreover, TV is changing fast.  Advertising revenues, the lifeblood of a TV channel, are falling fast as advertisers switch to new media.   Sky have a crucial grip on sports programming.  It's also worth pointing out that whereas telecoms is highly regulated and Eircom are bound to allow wholesale access to their eFibre network, TV content is hardly regulated at all.
Eircom has a huge challenge – to take large numbers of customers away from 2 providers, Sky and UPC, who have strong brands, powerful marketing and a reputation for quality.  To do this they will need a strong channel lineup and a fully-featured set-top box that is easy to use (note the negative reviews of BT TV here) as well as powerful marketing.  Sky have set the bar high in Ireland with quality programming, exclusive sports and great usability, and UPC have the advantage of a fast broadband network – and have already announced a new basic package to compete with eVision.  On the other hand, Eircom have a massive database of most of the landlines in the country.  Their eFibre infrastructure reaches half a million homes at the moment and will reach many more in a year – and their brand – if not ideally positioned for TV – has has almost universal recognition.
Time will tell whether the eVision brand has the muscle and the proposition has the ruthless focus on programming and service quality to take a decent share of the Irish TV market at decent margins.  One thing is for sure – this is good news for the TV consumers of Ireland.